Facilities
The JSS Institute of Speech and Hearing in Mysore has been designed to provide an exceptional environment for diagnosing, managing, and rehabilitating individuals with communication disorders. The institute boasts modern facilities, state-of-the-art equipment, and a highly skilled team of professionals who work together to deliver exceptional care and services to clients. The infrastructure of the institute plays a crucial role in the success of its programs and services, making it one of the top speeches and hearing institutes available.
Classrooms and Seminar Hall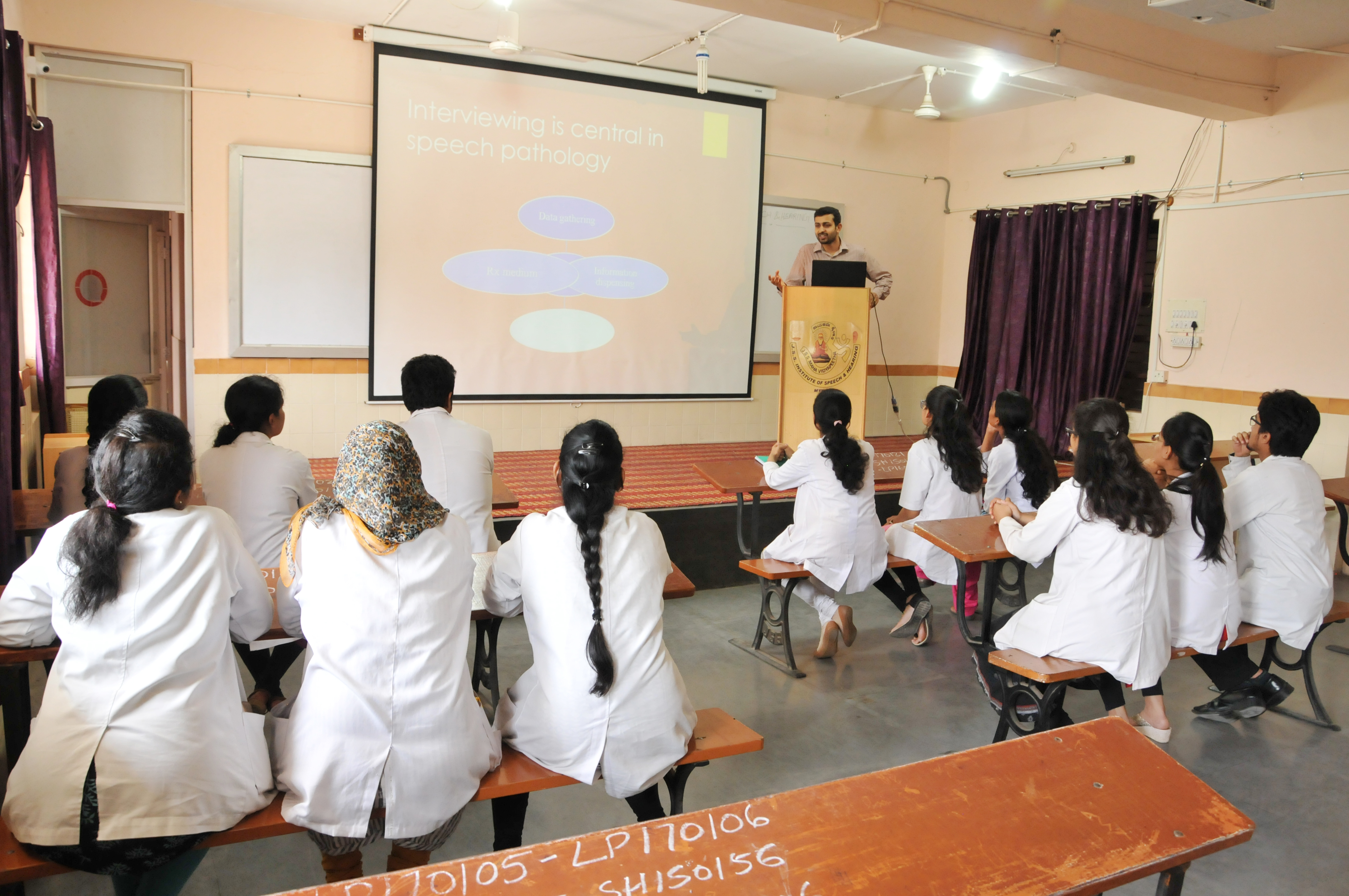 The JSS Institute of Speech and Hearing in Mysore provides a conducive learning environment for its students with top-notch infrastructure. The institute has spacious classrooms designed to facilitate effective learning. Furthermore, there is a state-of-the-art seminar hall with a seating capacity of 100 people, equipped with overhead projectors. This enables the institute to conduct various scientific seminars, presentations, and co-curricular activities to enhance the overall development of the students.
Laboratories
Speech Science and Hearing Science Lab
The JSS Institute of Speech and Hearing features well-equipped speech science and hearing science labs to provide comprehensive training to students on various aspects of hearing, speech, and language. The labs are equipped with modern instruments and advanced software to diagnose and treat various communication disorders. The computer systems in the labs have software installed to facilitate the learning process of analyzing normal and pathological speech production, hearing, anatomy, linguistics, phonetics, articulation, hearing processes, and more. The labs play a vital role in providing hands-on training to students and enhancing their practical knowledge.
Earmould Lab
The laboratory is fully equipped to provide both hard and soft custom ear moulds. It serves as a practical training ground for students to learn the art of ear mould making.
Library
JSS Speech and Hearing Institute's Library and Information Centre was established in 2001-02 to fulfil the academic needs of students and faculty and satisfy their thirst for knowledge. With its resource management software, "EASYLIB," the library boasts an extensive collection of textbooks in the field of speech and hearing. Additionally, the library subscribes to national and international journals in the same area. The library has a total of 4531 books, 24 journals with back volumes, 35 e-books, 428 dissertations and thesis, five international journals, two national journals, and 123 manuals. The library serves as an excellent resource for students and faculty to expand their knowledge and stay up-to-date with the latest developments in speech and hearing.
Hostels
The institute offers accommodation facilities to its female students through an outsourced hostel facility. The students enrolled in the BASLP program are eligible to seek accommodation in the hostel. The hostel ensures the safety, security, and comfort of its residents. Additionally, the institute provides transportation to the students from the hostel to the institute through its own bus service. For male students, paying guest facilities are available.
Health Care for Students
The JSS Institute of Speech and Hearing strongly emphasizes the health and well-being of its students. The institute organizes medical checkups for all students as part of this commitment. Additionally, students are entitled to medical care provided by specialists from the JSS Hospital in Mysuru. This ensures that students receive timely medical attention and care whenever required. The institute's focus on healthcare is a testament to its dedication to providing its students with a safe and nurturing environment.
Student Welfare
Student welfare is a top priority at the JSS Institute of Speech and Hearing. Each student is assigned a mentor who provides guidance and support throughout their academic journey. In addition, professional counselling services are available to students who need it. The institute's staffs are approachable, friendly, and always available to interact with students. The institute has active anti-ragging squads to ensure a safe and secure environment, with faculty and students as members. Parents are kept regularly informed about their child's well-being and academic progress. They can easily access the institute's director and staff for information or assistance.
Co-curricular activities
The JSS Institute of Speech and Hearing focuses on academic excellence and encourages students to participate in sports and cultural activities. The Institute has created facilities and encourages students to engage in extracurricular activities. As a result, the students of the Institute have participated in various cultural and sports competitions and have won several prizes. The Institute also promotes social awareness and responsibility and actively participates in the National Service Scheme activities like Shramadhan and public awareness programs. This holistic approach to education enables students to develop a well-rounded personality and prepares them for life beyond the Institute.